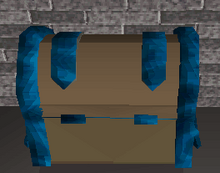 The OP Chest is a rewards chest offering high rewards to players. The chest has two drop tables, a common drop table and a rare drop table. The chest can be found north of Home, or by typing ::chests.
Requirements
[
]
In order to open the chest, a player must have at least the following items in their inventory:
Rewards
[
]

Common
[
]
Rare
[
]
Ichigo Teleport Ticket

7 Dragon Balls to Grant a Wish
Trivia
[
]
Sometimes players are lead to believe they did not receive anything from the chest when opening, however it is due to them receiving a red key drop.