Starter methods
[
]
Pinata
[
]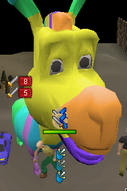 The Pinata is a special monster that will only appear after a player spawns it. Doing so will create an announcement for the world, so that everyone know they can participate. A player needs to be fully naked in order to attack it. Killing the Pinata will give every participant a drop, ranging from gear boxes and Scratchcards up to OP Keys and Millionaire Boxes. Starting players should try to kill as many Pinata's as they can.


Groudon Beast
[
]

Groudon Beast is a beginner mass boss that spawns every 30 minutes. You can quickly find it at ::bossevent. Groudon Beast has pretty basic drops like Red Keys, Mystery Boxes and Legendary Mystery Boxes, but there's also a chance to gain 1-3 OP Keys or a Diamond Chest.


Light and Dark
[
]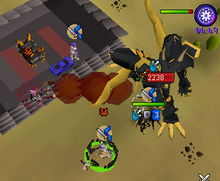 This 'Minigame' is a very consistent moneymaking method. You can read a more detailed explanation on the Light and Dark Minigame page, but in short: Help other players kill the big bosses that spawn in the center every 5 minutes, and either sell the keys they drop to other players (price at the moment of writing this article: 150k-300k) or open the Chest of Hope for a chance of something more valuable.


Slayer (Vanakka)
[
]

Starter Slayer could be very profitable and fun to do every once in a while. There are currently only 2 slayer Masters worth slaying for, Vanakka being the beginner Master. The way slayer is profitable is for the Super Slayer Boxes that you could get. Each slain monster has a 1/200 chance to drop one, which can then be opened for a chance at something valuable, or sold for a steady amount (price at the moment of writing this article: 200k-400k). It is recommended to have atleast a Jax Lantern or better to do this.


Voting
[
]

Voting is the main way players can promote their server without much trouble. This can be done every 12 hours. Voting for StargazePS rewards you with Voting Points, which should be spent on Voting Scrolls. These can then be sold for a steady amount of cash (price at the moment of writing this article: 200k-400k)


Mass bosses
[
]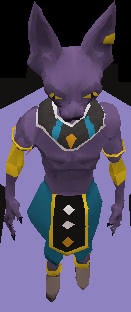 Leeching mass bosses is a very common way new players will get some starter cash. You don't need much gear or items to start with this, but having all of the following really helps:
Bugati Pet

Soul Split effect, essential for bosses where you need and overhead protection prayer. Commonly found in Super Pet Boxes, Fantasy Boxes or bought from players for about 500k.

Infinite Prayer Symbol

Stops drain of prayer points. Can be bought from OP Store for 10m.

Collector Necklace

or Dantes Necklace

Picks up most drops for you. Collector Necklace should cost you less than 50k, whilst Dantes Necklace is about 1m.

The following Mass Bosses are very popular and will net you a small amount of consistant money, but a small chance of getting a very expensive drop.
AFK Zone & Broly
[
]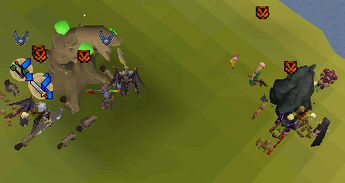 Using alternative accounts to get some extra money is allowed on this server, but only limited (make sure to read the rules). You can have up to 4 different clients open doing AFK activities: 3 are done in ::afkzone east of home, the fourth is at ::broly. Doing this will reward players with AFK Tickets to spend at the AFK Store, as well as a chance to gain other valuables.
AFK Woodcutting: Requires an axe and at least 80 woodcutting. Ticket rate can be increased by buying an Inferno Axe or a Golden Axe from the AFK Store.
AFK Mining: Requires a pickaxe and at least 80 mining. Ticket rate can be increased by buying an Golden Hammer from the AFK Store.
AFK Fishing: Requires a Golden Fishing Net, which can be bought from the AFK Store.
AFK Boss:

Broly

requires at least a Bugati Pet for consistant Soul Split effect, a

Collectors necklace

or better and an

infinite prayer symbol

with protect from ranged prayer active.
Advanced methods
[
]
Slayer (Chaeldar)
[
]
work in progress
End-game methods
[
]
Kid Buu
[
]
Ultimatium
[
]