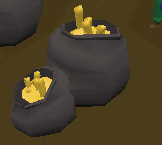 These Medium Money Bags can be found in the tunnels you can be directly teleported to them with paying a fee to pass barrier of 25,000 ::moneybags. Bulging Bag Teleporter will also take you directly to them. You can also find them relaxing in the King Zone along with other larger money bags. Killcount Requirements 250 Small Money Bags to kill Medium Money Bags also you will need to slay a total of 700 Medium Money Bags to kill Big Money Bags with Big Ass Papa Money Bags coming in with a whopping requirement of 1,500 Medium Money Bags!
Community content is available under
CC-BY-SA
unless otherwise noted.