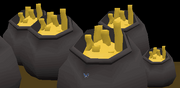 These Big Ass Papa Money Bags can be found in the tunnels you can be directly teleported to them with paying a fee to pass barrier of 25,000 ::moneybags. Bulging Bag Teleporter will also take you directly to them. You can also find them hogging up the King Zone. You must Slay 1,500 of each Money Bag before you can attack these giant bags of riches! These Big Ass Papa Money Bags are a must if you plan on doing Super Hard Slayer Tasks! If you have made it this far through your Killcount Requirements its time for you to figure out what Joker Clone has left all these bags sitting around!
Community content is available under
CC-BY-SA
unless otherwise noted.